PINE II OPFIX Spine System

Introduction
Indication/contraindication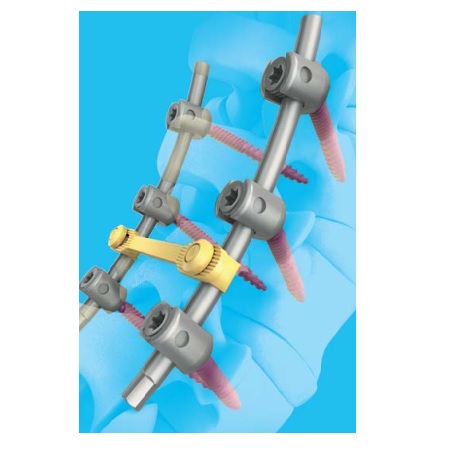 OPFIX Spine System is specifically designed to address the increasing need of fixation for the osteoporotic spine. Maximum purchase is achieved along the pedicle canal with exceptional dural-quardruple design, which provides the enhanced ability to manage surgical cases with poor bone quality.
-Exceptional thread design

-No tapping needed during the surgery

-Reverse set screw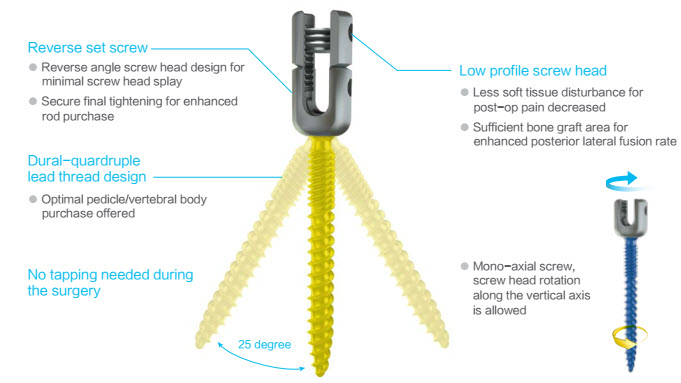 The PINE II OPFIX Spine System is a posterior pedicle screw fixation system (T1-S2) intended for use in skeletally mature patients.
Indications:
– Degenerative disc disease
– Spondylolisthesis
– Trauma (i.e. fracture or dislocation)
– Tumor
– Stenosis
– Pseudarthrosis
– Failed previous fusion
– Deformities (i.e. scoliosis, kyphosis and/or lordosis)
Contraindications:
– In fractures with severe anterior vertebral body disruption, an additional anterior support or column reconstruction with bone graft or cage is required
Other products of PINE Spine System: